Between 16 September – 1 October 2021, a new exhibition will commemorate the lives of four former pupils who played a leading role in the British attempt to map, survey, and summit Mount Everest in the 1920s.
"Because it is there." In these few words, given to a reporter of the New York Times in 1923, George Leigh-Mallory won international fame, and a place in the annals of mountaineering history for his attempts to summit Everest.
13 men would die on the Everest expeditions of 1921, 1922 and 1924, but Mallory's death in 1924 is the one remembered, having climbed close to the summit before being 'lost to human sight between Heaven and Earth.'
At 7am on 24 September 1921, Mallory and his team began their assault on the North Col of Everest. This first, courageous step into the unknown paved the way for future summit attempts of the 1920s and '30s. One hundred years after his first expedition, Winchester College's medieval Cloisters will play host to a special exhibition, featuring images and artefacts relating to Mallory's attempts, as well as acknowledging the notable roles played by Sir Charles Bell, Guy Bullock and Henry Morshead – all former Winchester College pupils.
Adam Rattray, Exhibition Curator, and Head of Art History, commented, 'Mallory and Irvine lost their lives responding to the challenge Everest posed. Whether they reached the summit or not remains a mystery but this exhibition highlights the ground-breaking work he and others achieved in pursuit of that goal.'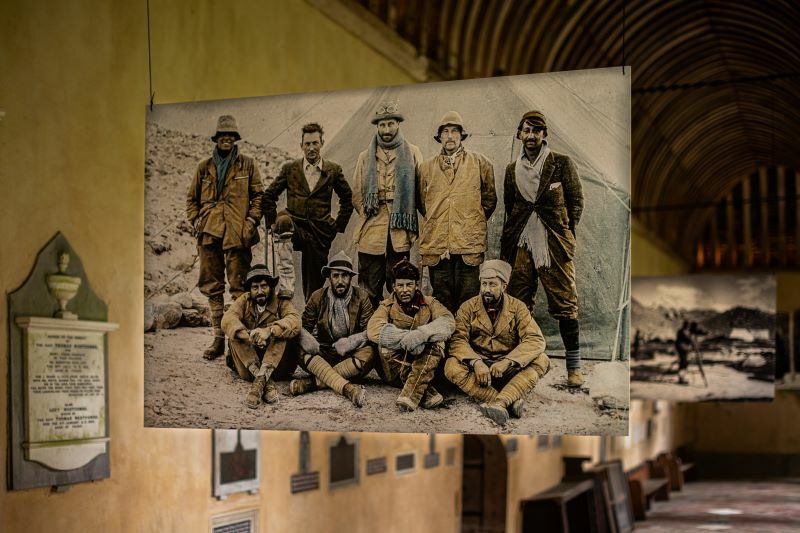 The Highs and Lows
The exhibition commemorates the achievements, as well as the disasters:
Experiments with oxygen made in the 1920s began modern high-altitude climbing.
12,000 square miles of Tibetan territory were mapped.
An 8,000 square mile geological map of Everest and its northern approaches was drawn.
Altitude records were set and international relations between Britain and Tibet strengthened.