William of Wykeham established Winchester College to provide an education for those with the intellectual spark and curiosity to take advantage of everything the school had to offer, and the drive and determination to give something back - regardless of their financial position. That is what we continue to look for in our applicants.
Winchester has one of the most generous bursary programmes in the country with 120 pupils receiving financial support – nearly 20% of the pupil body. We remain committed to tackling inequality of access and each year welcome pupils from a diversity of cultural, and socio-economic backgrounds.
Thanks to the generosity of donors there are three additional means-tested bursaries that are available to help with the school fees.
Golf bursary
Available to academically able and talented golfers, whose parents need financial assistance to meet the fee. Read more about one of the recipients of the golf bursary.
KENISTON-COOPER MATHS BURSARY
Available to sixth form students from state school who intend to study Further Maths at A-Level.
NORTHERN IRELAND BURSARY
Available to students from Northern Ireland.
More guidance on bursaries can be found here, or in our brochure below. If you have any questions about the school's bursary programme, your eligibility, or how to apply, please contact our bursary team or call on +44(0)1962 621200.
Bursaries Brochure
Nasir's Story
Nasir joined the school in the Sixth Form and quickly made friends for life. Being on a full bursary didn't define him or his experience: it simply helped him to grasp the opportunity.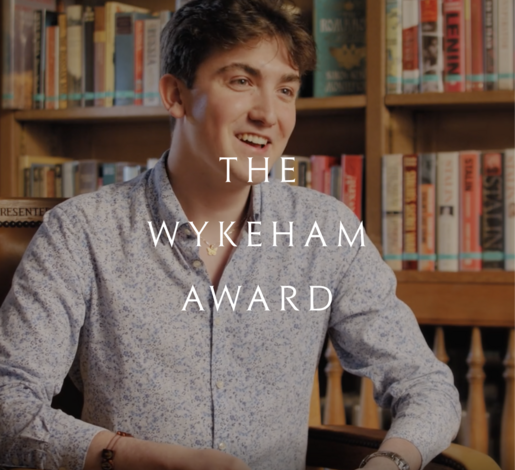 "It was a great opportunity that put me on a path, setting me up for life"
Luke, Pupil 2018-2020
The Wykeham Award is a means-tested bursary for pupils who join the school in the Sixth Form and who are currently studying at a UK state secondary school.