26th May 2022
BY Nick Wilks, Second Master
Recognition for Covid work
It is entirely fitting that Dr Cullerne's pioneering work on Covid should be recognised by an invitation to Buckingham Palace this week. Winchester was perhaps uniquely successful not only in managing the impact of the pandemic, but also in devising a number of innovative systems which will continue to have a wider application beyond the school.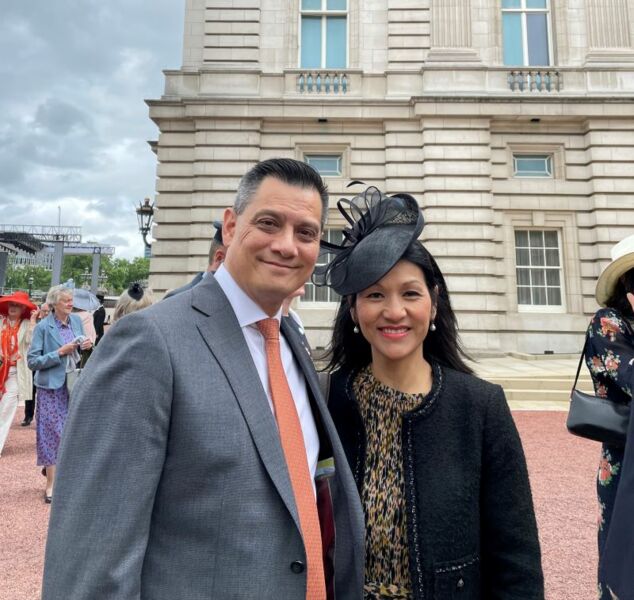 Dr and Mrs Cullerne at the Palace
Ambitious Solutions
Covid presented us with an almost impossible circle to square: how were we to find imaginative solutions to an unprecedented situation in which we had to operate within strict guidelines. Dr Cullerne's first challenge was to find a way of making the national requirement for pupil bubbles, which in most schools were defined by year groups, operate in a house-based system where our social organisation has its particular merit in its incorporation of five year groups all living together. The solution was both ambitious and radical – the entire school became a bubble, with the result that during the first wave we had just one case in the school.  
The second challenge was how we could screen pupils before they returned to school. Dr Cullerne looked at the different types of testing available, and noted that with one exception systems required the presence of 1000 viruses within a single millilitre. The exception was the SAMBA II, originally developed by Diagnostics for the Real World to test for HIV. With its capacity to test at 250 per millilitre, a sensitivity four times that of conventional systems, he recognised that we could pool test and screen four pupils at a time instead of one. This pool testing was unique, and made the screening of the entire pupil body possible in a way which was completely new.