The Evolution of Wykeham Day
Eton Match 1826-2001
The first cricket match between Eton and Winchester was played in 1826. Matches were played over two days and hosted alternately by Winchester and Eton, apart from the period 1832 to 1854 when it was part of a triangular series played at Lord's Cricket Ground between Eton, Harrow and Winchester. Over the years the occasion took on a grandeur beyond the cricket, although the Lords v Eton XI was always the centrepiece. In 1986 Eton Match reduced to a one-day game, always held at Winchester. Accompanying festivities and exhibitions became the norm. 
Wykeham Day 1996 – 2012
The first appearance of Wykeham Day was in September 1996 as an annual occasion for Old Wykehamists to gather and revisit their old school.
Winchester Day 2001-12
In 2001 the Eton cricket match was moved to a separate block fixture. The festivities surrounding  Eton Match were renamed Winchester Day and centred around Old Wykehamist cricket matches and other sporting competitions.

Winchester Match 2013-19
In 2013 Wykeham Day and Winchester Day were merged and combined under the title of Winchester Match, to be held in June. The format followed late 20th Century traditions: the day would start with a Chapel service; parents ate lunch up to house; and OWs or other visitors could either bring picnics or eat a formal lunch in a marquee on New Field. Every pupil in the school was expected to be involved in one or more activities; stalls appeared in a tented mall on Lavender Meads; and occasionally a display of classic cars would park alongside Meads wall.
Wykeham Day 2022 onwards Winchester College's annual open day will relaunch on Saturday 18 June under the revived title Wykeham Day. The name celebrates our founder, whilst also acknowledging the wide range of events and activities taking place that day, in addition to the cricket. We look forward to welcoming future pupils and parents, alongside current parents, OWs and all those who make up the Winchester College community.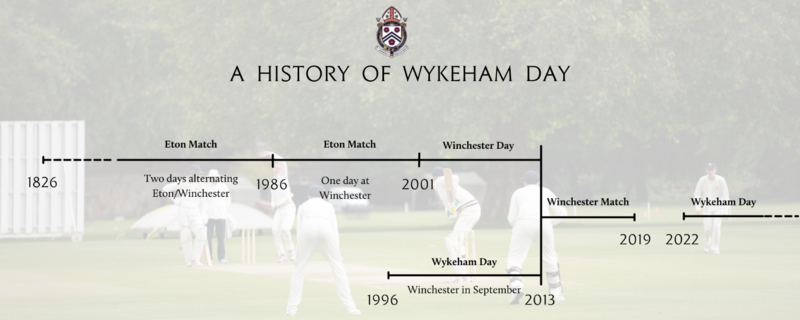 Please save the date. Further information and the full programme of events will be published soon.
Head back to stories