Kim Larcombe joined Winchester College on 5 September 1982. Forty years later, he's decided to prioritise his blossoming family and move to Cornwall to take up grandad duties.
After a year at Sparsholt College, and a first job looking after the gardens at Winchester's Royal Hampshire County Hospital, Kim joined Winchester's grounds team, which he now leads.
New pupils, parents and staff always remark on the peaceful beauty of Meads and this is down to the dedication and attention to detail of our expert grounds team. Indeed, Kim's first impression of the College was of "the immaculate grass" as he walked through Meads to his interview. It has been his calling to keep it that way for the past 40 years and, as new members of the team joined, he's brought in people with an equal respect for grass, recruiting from golf courses as well as those with broader gardening experience.
In the past 40 years, Kim feels little has changed, which is both reassuring and very special. Although the team of gardeners has decreased from seven to four, there are still five grounds staff and Kim praised the College for continuing its investment in the grounds and the people working on them. When asked what colleagues working in other environments thought of Winchester, Kim noted that they "respect the standard of what we do, and the fact that we're allowed to work to that standard. The College gives the team permission to make time to take care of the grounds properly. That's unusual and is what makes the Winchester College grounds so impressive."
The character of Winchester pupils has also been a constant. "The boys that come here are always respectful and pleasant. We have most interaction with them in the summer, through the cricket season, and they are always polite. They stop to chat, compliment the grounds, or just say thanks. I've never met a Wykehamist I didn't like and I think the school has always attracted the same sort of pupil. I'm particularly proud that we have always had the grounds ready for the boys' sport."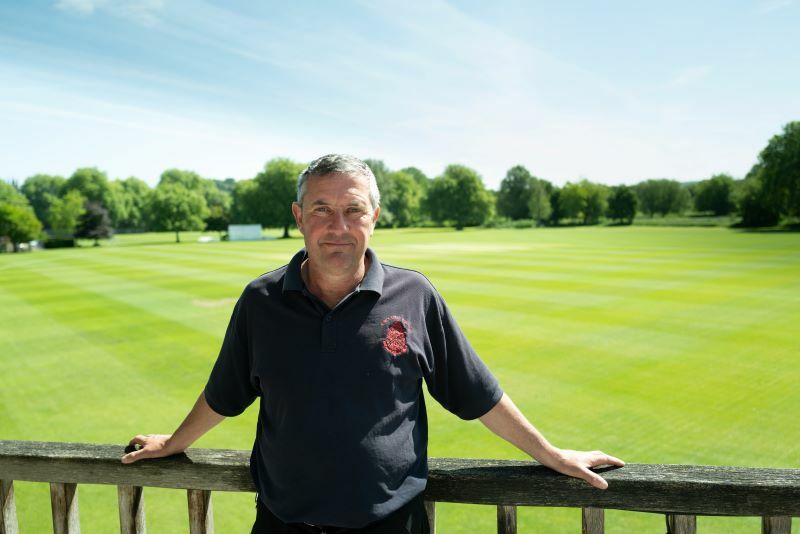 The weather has been the biggest challenge throughout his career but Kim encourages all gardeners to "work with, rather than against it." The greatest change in recent years has been the huge increase in the amount of sport being played – and the variety – which means more time on the grass and careful management. But one of his favourite places to be is in amongst that action: "I love working on Meads alongside the cricket; there's always something going on." It must have been a proud moment too, hearing that Hampshire Cricket had chosen to move some of their games to Winchester – testament to the quality of the playing surfaces here.
Leading a good group of people who fit together well as a team has been key to his success at the College, according to Kim, alongside a calm, positive approach. If he's ever having a bad day, Kim goes up to Hunter Tent and takes a good look at the view from there, which puts everything into perspective. "Take pride in what you do – that's what's most important," he concludes.
Kim is the proud father of two children and five grandchildren, all of whom live in Cornwall. Whilst he thoroughly enjoyed working through lockdowns, as the school was quiet and he was able to concentrate on keeping things looking pristine, it also prompted him and his wife to reflect on what's most important to them. Having worked hard throughout their lives, they decided the time was right to make a change and focus on their extended family. However, Kim has no intention of downing tools completely and will never be far from grass, whether playing golf or gardening.
We wish Kim and his family all the best.
Head back to stories