5th July 2021
BY Adam Rattray, Head of Art History
"Because it is there." George Leigh-Mallory told a New York Times reporter, when asked why he was trying to climb Everest.
In the centenary year of the 1921 British Everest expedition, an audience of pupils and staff listened to Mr Bill Norton (Trant's, 1947-51) host a question and answer session about the remarkable life of his father, Edward Norton (1884-1954).
Edward Norton led the 1924 Everest summit attempt, and was on the 1922 expedition. Snow blindness and exhaustion prevented him from summiting, but Edward set an altitude record that lasted 28 years, and an altitude-without-supplementary-oxygen record that lasted 54 years, until Reinhold Messner climbed Everest without oxygen in May 1978. So damaging was the effect of the sun, Edward was left blind for 60 hours, during which time Mallory and Irvine made their fatal attempt on June 8th 1924.
Bill's recollections were fascinating. They brought personal colour and insight to the story: in particular the arguments that his father had with Mallory about the likely best route to the summit. Bill is probably the only living first-generation descendant of one of the British Everest mountaineers of 1921-4. Listening to him, we were transported back to the world of those early Everest pioneers, their extraordinary moral and physical courage.
Afterwards, pupils compared the weight of oxygen tanks of the early 1920s compared with those of today.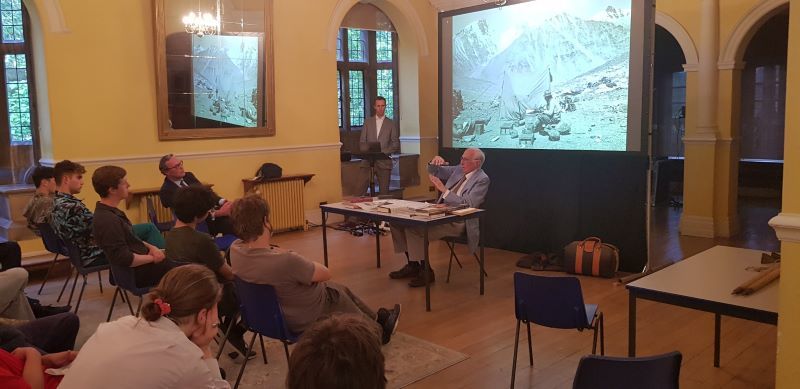 Bill's talk anticipates a new Everest exhibition opening in Treasury next term: a commemoration of the three OW climbers who played leading roles in the three Everest expeditions. Guy Bullock, George Mallory and Henry Morshead were attempting more than to climb the world's highest  mountain – they played significant roles in a geological, geographical and natural historical survey of South Tibet and the Himalaya. The exhibition will focus on these aspects of the expeditions, as well as the effort to summit. 
The Everest exhibition 'More than just a mountain'  opens in Cloisters on 16th September to coincide with Winchester College's participation in Heritage Open Days.
Head back to stories