12th September 2021
BY Christopher Normand, Director of Winchester College Society
After a gap of nearly ten years, we were delighted that the traditional Winchester ceremony of Ad Portas took place last week. The occasion was a fitting celebration to mark the beginning of a new school year and a return, we hope, to normality.
Ad Portas is a formal welcome by Winchester College to distinguished visitors. Since 1873, when the current ceremony was first performed, we have welcomed 121 Honorands – royalty, bishops and eminent Old Wykehamists. It is the highest honour that the school can bestow. Last Thursday, 9 September 2021, the College assembled to receive Ad Portas General Sir Nick Carter, an Old Wykehamist and Chief of the Defence Staff, the head of British Armed Forces.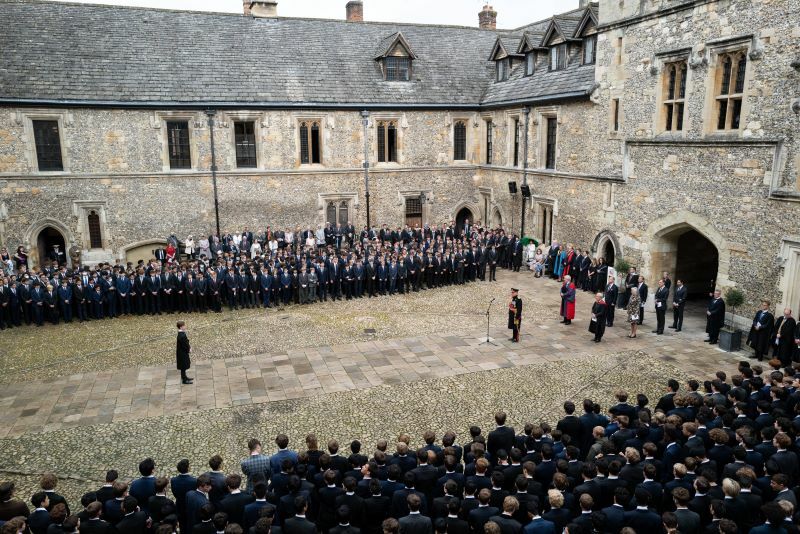 The Aulae Prae addresses General Sir Nick Carter in Chamber Court
The whole school formed up in Chamber Court with the Aulae Prae (Senior Scholar) standing alone at its centre.  As the sound of Chapel clock striking midday faded away, the Aulae Prae greeted General Sir Nick with a speech in Latin and English.
The General's inspiring reply reflected on his own education at Winchester, his life in service and the qualities of leadership.  Of his time at Winchester, he said:
"When I look back now, I realise how fortunate I was to receive the education that I was given at Winchester. It is inspiring to be encouraged to pursue your own interests rather than being taught by rote. It develops an intellectual curiosity that encourages lifelong learning, and it obliges you to have the humility to listen to others."
The General also spoke of the importance of public service:
"I would encourage you not to dismiss public service. It is not as fashionable as the private sector, but for me the clue is in the word 'service'."
 On Leadership he concluded with this summary:
"There are many other qualities that make a good leader. But these are the four I would wish to commend to you that have served me well – courage, integrity, judgement, and knowledge. And these are all qualities that Winchester espouses."
Read General Sir Nick Carter's Full Speech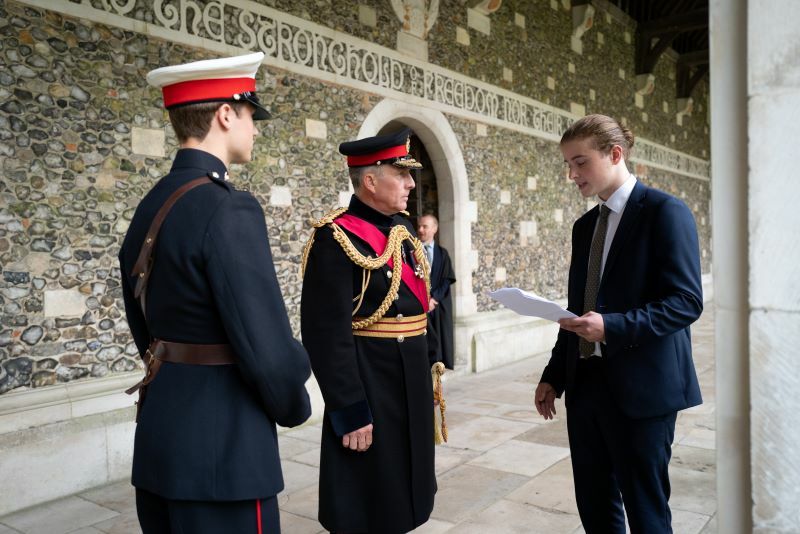 General Sir Nick Carter hears from current Wykehamists about an Old Wykehamist who died of wounds on the same day in 1944.
Following the ceremony in Chamber Court, General Sir Nick and the Head of the CCF laid wreaths in War Cloister in remembrance of Wykehamists who fell in both World Wars.
Head back to stories