Sixth Form entrant Dev Sharma (VI Book 2, Chawker's) has been named Volunteer of the Year in the Your UK Parliament Awards 2022. The Awards celebrate people across the UK who have taken action on the issues they care about by engaging with the UK Parliament, with the winners chosen by a panel of MPs, Lords and independent judges.
Dev was recognised for his work on tackling junk food advertising to children and young people. During lockdown he noticed a marked increase in online advertising for junk food and takeaways, and he wanted to put a stop to it. He took action by writing to the then Secretary of State for Health, Matt Hancock, urging the government to make policy changes to protect young people from adverts promoting unhealthy foods. Dev also launched an open letter calling for an end to this type of advertising and encouraged young people across the country to support it.
In July 2021 the government announced new regulations to introduce a 9pm watershed for advertisements of foods high in fat, salt and sugar, which will come into force at the end of 2023.
Dev, who is Youth MP for West Hampshire, attended the Awards ceremony hosted in the Speaker's House at the Houses of Parliament on 29 March 2022, and accepted his award from Sir Lindsay Hoyle, Speaker of the House of Commons.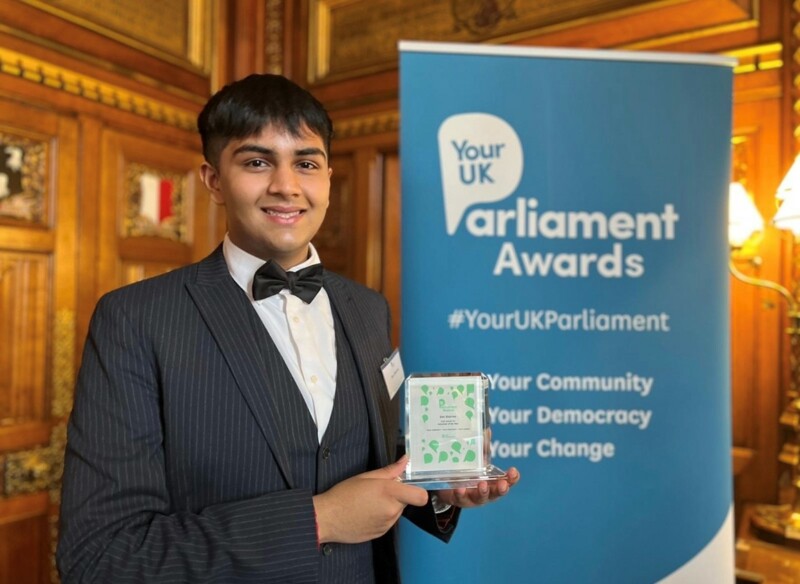 Head back to stories