7th March 2022
BY Felix von Moltke, Seb Fennell (Sixth Form pupils) & Dr Alex Clayton (Head of Geography)
The Elizabeth Project is Winchester College's first Carbon Offset and Tree-Planting program. Our mission is to work towards net-zero emissions whilst building a conversation around the climate and sustainability at our school and in the local community.
We started the project in September 2020, and despite being ready for planting in early 2021, lockdown pushed back our plans. This turned out to be a useful setback: we were able to reconsider different tree types, get advice from experts and had more time to choose the right planting site. We also had lots of help from the Sustainability Society and ESAG (Environment and Sustainability Advisory Group), where we went to meetings discussing different approaches to our project.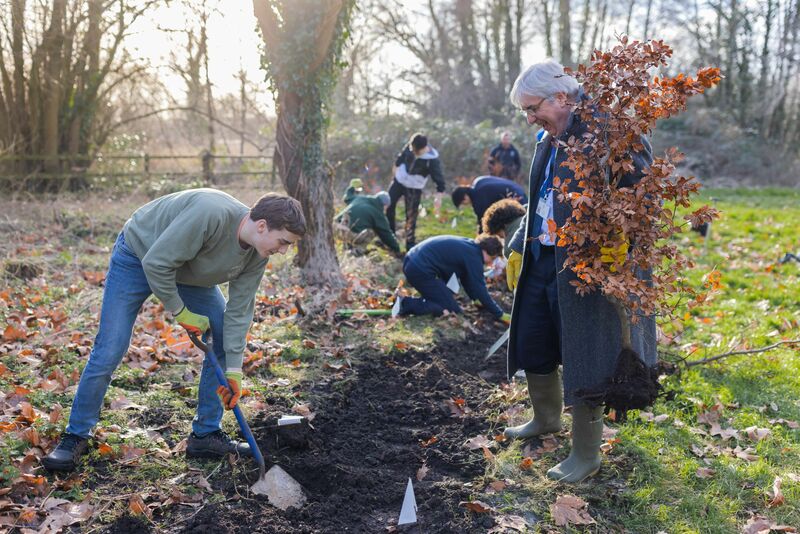 The Headmaster lends his support
In January 2022 we sourced our saplings from Mill Hill Farms – run by an Old Wykehamist. We decided on a mixture of Elder, Hawthorn and Blackthorn, with an extra 50 Beech saplings kindly given to us by Head Gardener, Alan having been left over from the Warden's Garden. Mr Rattray's Community Service Rewilding Group helped us to de-turf and prepare the ground for our first session.
On Thursday 10 February, we had 32 volunteers and the Headmaster joined us to plant 177 trees on the hedgerow by Blackbridge House and Gunner's Hole, whilst Oscar Mitcham (Trant's) and Orlando Kennedy (Kenny's) volunteered to help supervise, plan and plant. It was a fantastic afternoon – one that we hope to host again in future years.