8th February 2022
BY Mark Burley, Director of Sport
An Appetite for Rugby
During the autumn of 2020, the need to maintain group bubbles meant sport had to be delivered to Houses and touch rugby was introduced as one of a range of options. This ultimately led to an inter-House touch rugby competition with a significant number of boys highlighting how much they would like to play rugby again. The subsequent strict regulations enforced by the RFU meant that contact rugby could not be played; indeed, this was why we could not allow tackling and Hots in the 2021 XVs match. Nevertheless, more boys began to attend the weekly touch rugby session during Cloister Time and this led to a hardy group of boys committing to a once per week rugby club session during Short Half, when contact skills were reintroduced. For many of the boys this was the first time they had played any form of contact rugby in four or five years.
The Appeal of 7s
The competitive Schoolboy Rugby 7s programme traditionally operates in the spring and, as well as the existence of established tournaments, such as the National Schools 7s at Rosslyn Park, more schools are introducing small triangular and joint training sessions to help develop the game. Such a development lent itself to promoting this version of rugby to the boys of Winchester College. The abbreviated version encourages speed, agility, vision and support play rather than the dominance of physicality so prevalent in fifteen-a-side rugby and thus provides a far more appropriate vehicle for our boys to engage with the sport. As a number of the Winchester College pupils are keen to play the game at University, introducing 7s made sense as it can sit alongside the breadth of other sports played in Common Time.
So far this term we have played at ACS Cobham and enjoyed a successful encounter, as well as training with established rugby playing schools, such as Canford and Bryanston. Last weekend the senior squad tested themselves against some very strong rugby playing schools at the South Coast 7s.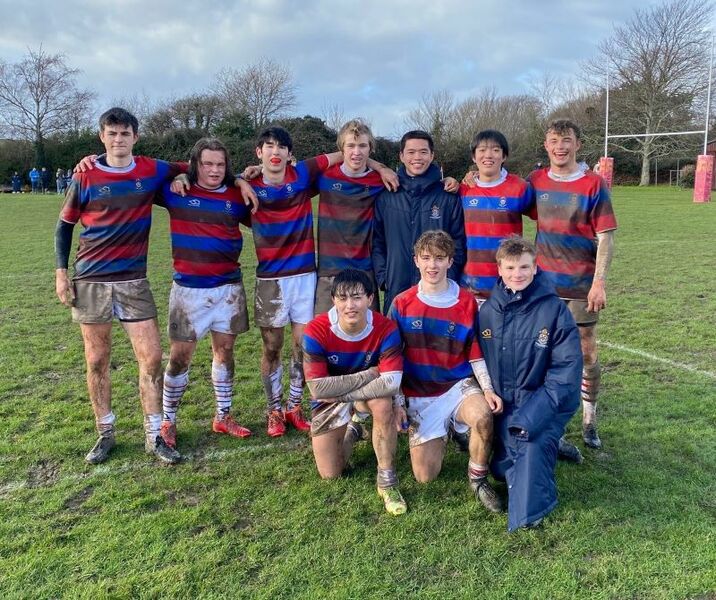 South Coast 7s
Making their competitive tournament debut at Portsmouth Grammar School's (PGS) South Coast 7s was always likely to be a baptism of fire for the fledgling Rugby 7s squad. Torrential rain greeted our arrival and we were definitely caught cold by the hosts in our first pool game. Defending too narrow and turning the ball over too often saw PGS come out comfortably on top. The second pool game against King Edward's Southampton (KES) saw a far more improved performance with tries scored by Iestyn Barron (who played every minute of every match) and Frankie Shropshire. Hugo Barnes was full of energy threatening with ball in hand and pressuring at the breakdown. KES outscored us four tries to two but it was agreed by the players themselves that we had gifted them at least two of their scores.
Millfield 2s were up next and playing into a strong wind in the first half saw us concede four tries leaving an uphill challenge against the team who were to ultimately top the group.  We then moved into the Bowl competition but were up against Gordon's School who topped Group 2. This school operates an Academy squad in partnership with Harlequins and with several "big units" to the fore, our opponent's direct approach proved too much to deal with. It would have been very easy for the boys to let their heads drop but the character, resolve and determination to keep making progress became evident in the final match. Up against Millfield 2s for the second time, after their surprise defeat to Bryanston, we took the lead to go 14-0 up with two excellent tries from skipper Will Matthews. The Somerset school came back with the wind behind them to take a 24-14 lead but Frankie Shropshire outpaced the Millfield defence to peg the score back to 24-21. With seconds left on the clock we were attacking deep inside the Millfield '22 but a dropped ball saw the Millfield winger pick up the ball and go the length to seal the win.
To almost turn around a 30-point deficit in just two matches illustrated how much the WinColl boys had developed throughout the tournament. 
Looking ahead to later this term, our teams will have the ultimate test when, joined by an U14 team, Winchester College competes at the National Schools 7s tournament for the first time in the school's history.
Head back to stories