11th October 2021
BY Dr Richard Foster, Keeper of Collections
An ancient Greek vase, missing from Winchester College for almost sixty years, has been returned to the school after being entered for sale at an auction house in Sussex.
The small lekythos (oil flask) was made in Athens in the early 5th century BC and is painted with an image of the god Zeus seated on a throne. It forms part of a collection of around a hundred Greek vases originally acquired for the school museum in the late 19th century.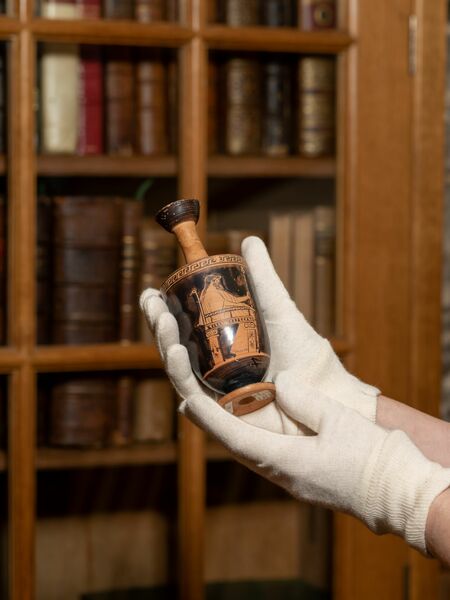 In the 1960s, about fifteen vases were stolen from the school and sold to an antique dealer. They were then dispersed, with seven being auctioned at Christie's in 1965. Through the painstaking detective work of John Falconer, a former Classics teacher at Winchester, three of the missing vases were located and returned to the school in 2001, 2002 and 2012. One of these had travelled as far as the Columbia Museum of Art, North Carolina; the others were found in Texas and Amsterdam.
The College was alerted to the reappearance of the latest vase by Jasper Gaunt, a Classical archaeologist and grandson of Walter Oakeshott (Headmaster of Winchester from 1946 to 1954). Through the kind cooperation of the auction house and the vendor, the missing lekythos has recently been returned to the school.
"We are delighted that it can now be accessed by the general public, either in person or online."
Dr Tim Hands, Headmaster of Winchester College commented, "After a long absence, it's wonderful to see this unique artefact return to the College. Thanks to the efforts of a number of parties led by Keeper of Collections, Dr Richard Foster we are delighted that it can now be accessed by the general public, either in person or online."
The vase is now on display in Treasury, the College museum, and may also be viewed online along with the rest of the school's Greek artefacts. Included on the website are details of the vases which still remain missing.
Head back to stories