4th December 2022
BY Michael Bruzon, Head of Art
Collaboration & Competition
Drew Jug is the annual inter-house competitive art event run by Art School. This year's competition theme was Facades and house teams had seven weeks to respond to the theme and collaborate to create an original artwork from their research.
Teams were encouraged to interpret this as literally or openly as they saw fit; this invited a variety of responses ranging from architectural language to ideas of characterisation and authorship. The exhibition in Musa Loggia was an eclectic mix of outcomes, which included video projections, AI generated art, painting, drawing, operatic masks, stage sets and mixed media collage.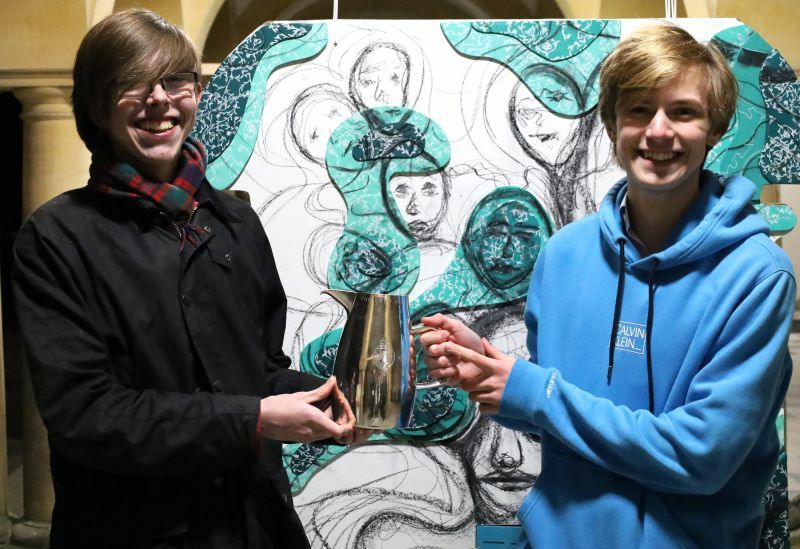 Callum and Ludo collect the trophy for Bramston's
Results
Our adjudicator, Ian Ellis (artist and former Head of Art at Radley College) had a challenging task to select winners from the eleven strong submissions. He delivered a detailed appraisal of the merits of each work and awarded the following prizes:
Research and Development Prize: Morshead's (Freddie's), for their linear mixed media response to the architecture of our historic buildings.
Collaboration Prize: Hawkin's (Chawker's), whose installation and painting explored the relationship between the external façade of a house and its inhabitants.
The overall winner, and recipient of the Drew Jug: Bramston's (Trant's), who created a layered work that explored "styles and periods of architecture, as well as the more abstract, human definition of a facade as the way a person presents themself to others."
Head back to stories