10th January 2023
BY Dr McManus, Master in Charge, Fives
Schools' West of England Fives Tournament
Common Time is the best term of the year... it's the Fives term. As the lead coach for Fives, I am perhaps biased but 2023 has so far proved a very happy New Year for our Fives squad.
As usual, we took 15 pupils to Sherborne for the Schools' West of England Fives Tournament over the first weekend of the year. Each year, there are four trophies up for grabs: U18 Singles, U18 Doubles, U16 Singles and U16 Doubles. This year, Winchester finished the tournament in possession of all four trophies despite Alleyn's, St. Paul's and Tonbridge, and others also boasting some talented players. Indeed, the strength in depth of the Winchester squad was underlined by the fact that three of the four finals were all-Winchester affairs.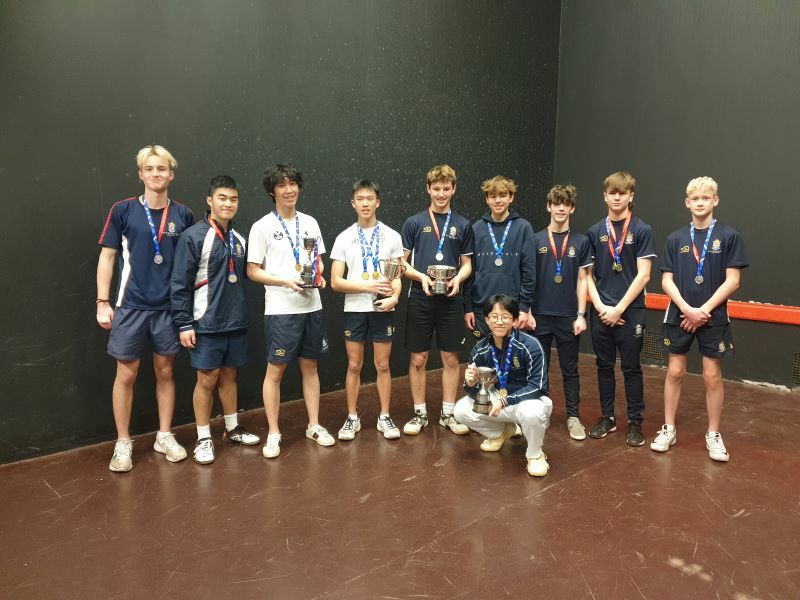 The Medal Winners
Strong Results
In the U18 Singles competition, Shiloh W beat Chris L (both Morshead's) 11-0, 11-2 in the final. However, it had not been plain sailing to get to that point as Chris was pushed very hard by a talented Tonbridgian in his semi-final before winning 11-5, 11-12, 11-9. Honourable mentions go to Henry A (Morshead's) who beat Alleyn's top player in his quarter-final 11-4, 1-11, 11-8 and to JP C (Morshead's), playing in his first ever singles tournament, who came close within a whisker of winning a semi-final berth before losing to the top Tonbridgian 11-8, 6-11, 9-11.
In the U18 Doubles final, our top pair, Shiloh and Chris, beat Henry and JP 11-1, 11-5. In fact the final was not just an all-Winchester, but an all-Freddie's final! Henry and JP can both be proud of their achievement in making the final as they were pushed all the way in the semi-final by Tonbridge's top pair before winning that 11-9, 5-11, 12-10.
In the U16 Singles final Jeffrey C (Du Boulay's) beat Alleyn's top colt 11-6, 11-1. The Alleynian had shown impressive touch and control in the earlier rounds, so it was great to see Jeffrey play an array of penetrating shots that simply never allowed his opponent to get a foothold. Jeffrey was not alone in showing his single ability as both Anthony C B (Moberly's) and Arthur J-D (Fearon's) also reached the semi-finals.
In the U16 Doubles final Jeffrey and Anthony overpowered Arthur and James K (Fearon's) to win 11-0, 11-3. Both pairs had really impressed in their respective semi-finals against very capable pairs from St. Paul's and Alleyn's respectively, playing shots of a standard and sophistication above what is normally scene at U16 level. It's also worth noting that, as U15s, James and Arthur have the chance to go one better next year.
Success was not confined to our top players as Zach G (Bramston's) won the U16 Singles Plate, beating a Pauline 15-12 in the final and, with partner Rory M (Bramston's), he repeated the trick in the U16 Doubles Plate when they beat Stamford's top pair 15-9 in the Plate final.
Head back to stories