Funeral of Her Majesty
On 8 September 2022, the nation went into mourning after the death of Her Majesty Queen Elizabeth II. Later that day, a group of Cadets from Winchester college were told that they would be taking part in the funeral procession. They travelled to Pirbright, their local army base and from then on there were non-stop rehearsals. On Thursday, they had a rehearsal in London and were marching from around three o'clock until six. The funeral was a momentous event, engrained in the memories of all who took part.  
Talks
On 21 September, Major General Bruce came to Winchester to give a talk about the relevance of Media Operations in today's society. He spoke about his own career path and explained how media expertise can serve you well outside of the military. In addition to his successful military accomplishments, General Bruce has been involved in many famous TV shows such as "Downtown Abbey" and the "Great Showman".
General Bruce spoke with infectious energy, which captivated the pupils. He generously answered lots of questions and gave advice individually about public speaking and the involvement of the media in the military. He also spoke about how his leading role in the military affected his personal life, and how he blazed a trail for gay men in the military at a time when it wasn't accepted.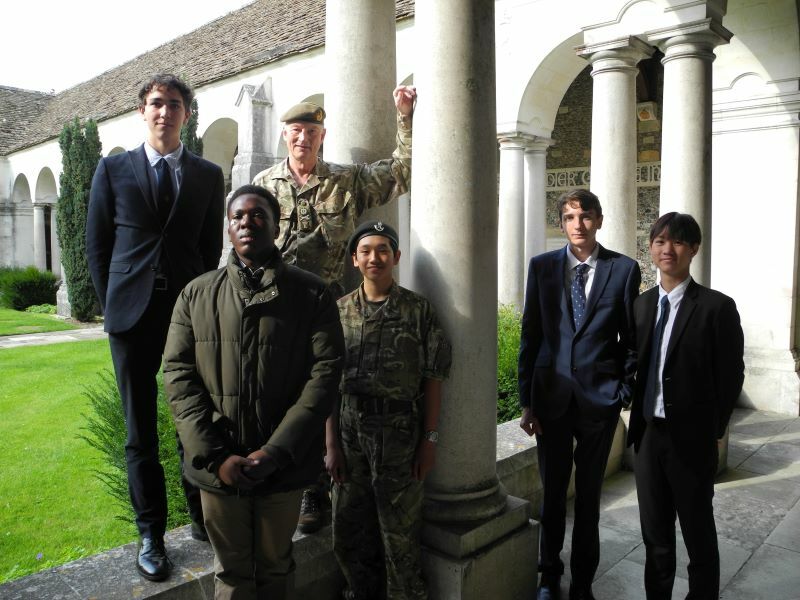 Major General Bruce with the CCF Media Section
Remembrance Service
Following a very moving chapel service, on 11 November, the CCF team led a magnificent parade from Chapel to War Cloister. Here the entire school and staff congregated, where we were led in a powerful service by Reverend Jones. It was a combined effort from all service sections with music provided by Cadet Simons playing the Last Stand on the bugle, and the team who played the bagpipes. It was a somber and moving experience.
Watch Aaron Ruengsawang's film of the service below.
Range Day
14 students and 3 staff went to the 11 Brigade Range Day held on Longmoor ranges on Sunday 27 November. Pupils were taught zeroing and grouping of a cadet rifle before going on to the main ETR (electronic target range) to practise the skills learnt and experience using live ammunition.
Officers & Senior NCO Dinner
The CCF Officers and SNCO's participated in a Dining out Dinner to mark the departure of Sqn Ldr Graeme Hughes. The CCF staff and pupils enjoyed an outstanding three-course meal provided by the College Catering Staff.  
Sqn Ldr Hughes took over the role as Head of the RAF Section in 2017.  During his appointment here, he added considerable knowledge and experience along with fresh ideas, promoting the RAF in the Contingent and beyond. He leaves to focus on his commitments with Air Training Corps and family life. 
The year ahead
Cadets are looking forward to an Easter Camp in March, with a week-long tactical exercise at the Caerwent Training Area near Chepstow, South Wales. They will take part in paintball exercises and blank firing, whilst living in the field under shelters, on military rations. In the summer, there will be an adventure training week to include hill walking, mountain biking , climbing and canoeing.
Head back to stories