14th January 2022
BY Dr Jamie McManus, Master-in-charge of Fives
In the first proper tournament for two years, the competitive Fives season got under way with the West of England Schools' Fives tournament at Sherborne last week, contended by nine schools.
All the Wykehamists represented the school admirably. However, the most notable achievements were:
Fourth year pupil Henry, after the disadvantage of drawing the number 1 seed in the U18 Singles in Round 2 of the tournament, enjoyed a good run in the plate competition before losing to a Pauline in the final. He's got one more year at Winchester to have another go at the main competition.
First years James and Arthur, both U14s, were the talk of the tournament after winning the U16 Doubles Plate. Put simply, they improved with every rally.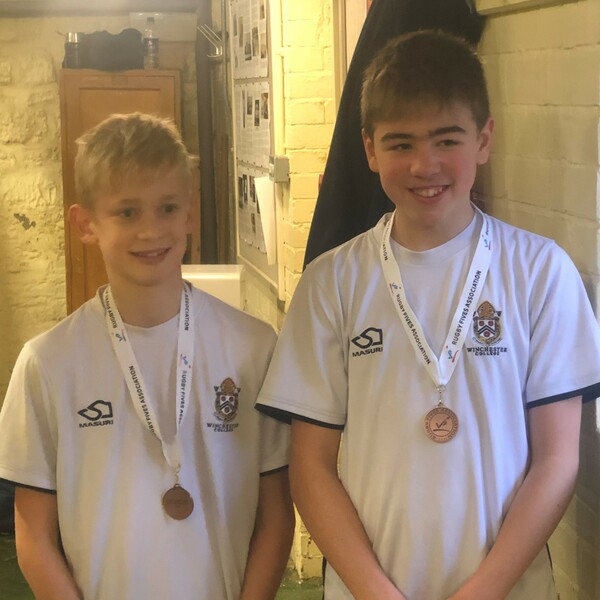 Third year Anthony made it to the final of the U16 Singles. Though he lost to Vernacchio of Alleyn's 9-11, 6-11 he certainly put up a good fight against a boy who was a year older and more experienced than him. In the U16 Doubles Anthony, together with Jeffrey, then got tantalisingly close to a win. After brushing aside opponents on the way to the final, they took the first game against Alleyn's before going down to their older opponents 11-2, 4-11, 6-11 in the end.  
Lower Sixth pupil Shiloh particularly impressed as he progressed to the U18 Singles final against Wiseman of Alleyn's – the heavily fancied and older (again!) number 1 seed who had beaten Wykehamist Marcus 3-11, 7-11 in the semi-finals. Shiloh started the final very strongly, taking the lead and forcing Wiseman to  work hard to overcome him. Shiloh eventually lost out 9-11, 7-11 and is determined to go one better next year.  
At this stage three of four competitions were complete, and in each the Winchester pupils had done brilliantly to reach the final but had then lost to Alleyn's. Certainly, this helped to strengthen Shiloh and Marcus' resolve when they beat a good St. Paul's pair in the U18 Doubles Semi-final and won the right to take on Alleyn's (the number 1 seeds) in the final. They played with great skill and determination to win the match 11-2,7-11, 11-7 and bring home the U18 Doubles trophy. Whilst this will not seem significant to some, as it is a repeat of the result of Winchester Doubles tournament last term, it was, in fact, a much more significant and impressive win as the Wykehamists did not have home-court (and court-shape) advantage this time.
Head back to stories