26th March 2022
BY James Livingstone (Head of French and Master-in-charge of Debating)
Pupils Arthur King (College) and James Fulcher (Beloe's) produced a set of dazzling performances at the National French Debating Finals to finish third in the country. This is a remarkable achievement, and a testament to the exceptional dedication both boys have shown to their French studies over the past year and a half.
Preparation for the competition this term has involved many hours of practice, with a number of early morning and late evening sessions. Although finishing third is, of course, a magnificent result in itself, it is worth praising the fact that James and Arthur had even managed to beat the eventual overall winners, a highly talented team from King's College Wimbledon, at a previous stage of the competition (the regional finals). This shows just how closely-fought the finals were, and highlights the brilliance of all the performances. Ultimately King's came out deserved winners, with an excellent team from Haberdashers Aske's Boys School narrowly pipping Winchester to second.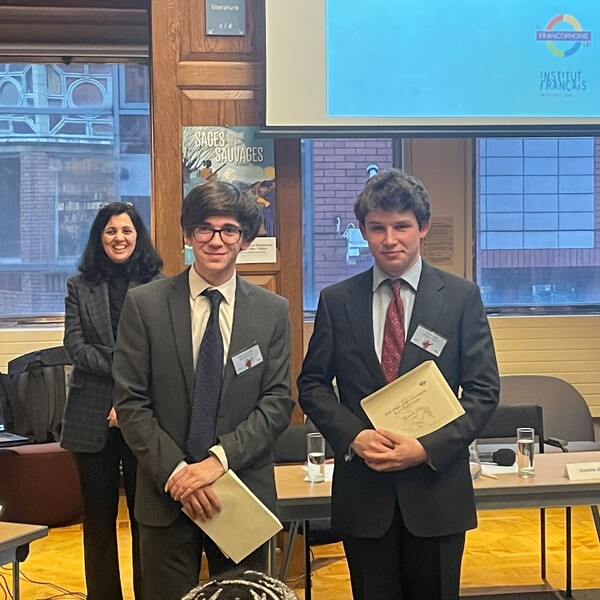 The Finals were held at the Institut français on Wednesday 16th March. James and Arthur were accompanied by an impressive contingent of Winchester supporters, with eight sixth-form French pupils and three dons making the trip to London to cheer for them. Many thanks must go to M. Fondain and Mrs Hill for helping to run this excursion. Arthur and James would like to thank M. Fondain in particular, who has stepped in repeatedly to help run practice sessions at unsociable hours this term, and whose advice and support proved invaluable.
Debating in one's first language can hardly be described as an easy task. Debating in one's second language, in front of a large public audience, when faced with extremely complex motions such as 'Can the author be separated from their work?' (one from the final) is surely one of the most intellectually demanding undertakings imaginable for a school pupil. Hearty congratulations must go to Arthur and James for demonstrating nerves of steel, as well as extraordinary eloquence and rhetorical prowess, in achieving such a fantastic result at this prestigious national event.
Head back to stories