We are delighted to welcome Miss Eve Cavey as our new Duncan Louis Stewart Fellow in Natural History. With experience of the Kenyan savannahs, reefs and rainforests of Belize, and the national parks of Croatia, Eve has much to bring to the post. Eve holds a BSc in Ecology and an MSc Applied Ecology and Conservation, for which she developed new equipment to collect hazel dormouse footprints, and analysed the impact deer overgrazing is having on small mammal populations in Hampshire.
In her new role Eve plans to implement extensive surveys of reptiles and amphibians on campus, as well as set up small mammal hair and footprint tunnels, and a larger number of camera traps. She is hoping to start a hazel woodland coppicing activity for community service, and also introduce a colony of leaf cutter ants to Science School.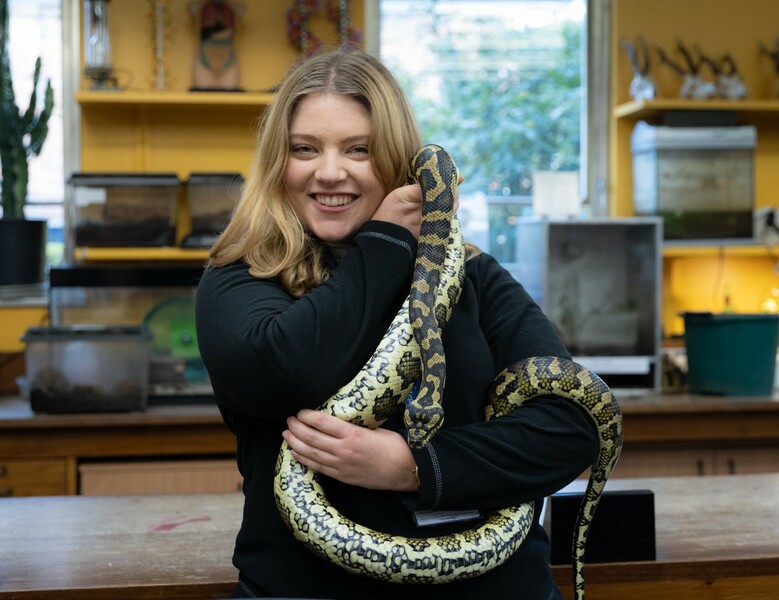 "Winchester is home to enormous diversity, and I am keen to share this with pupils from the College and our partner schools"
The fellowship was founded in memory of former pupil, Duncan Louis Stewart, a keen naturalist who tragically died in a RTA at the age of 18. A passionate fisherman, Duncan kept meticulous journals and notebooks of his observations in nature and worked on organising the school's Natural History collections, helping to index, collate and record the specimens. It was Duncan who persuaded Sir David Attenborough to give a talk at Winchester, and Sir David remains an Honorary Patron of the Society.
The Fellowship that bears Duncan's name continues to build on his legacy, and through Eve's appointment will enable more pupils to experience those sparks of inspiration that often result in a life-long love of nature.
Head of Biology, Mr Matthew King said "Eve brings great enthusiasm and knowledge to the role and will improve our natural history provision hugely. I am looking forward to the expertise she will bring to the process of documenting and sharing with pupils the wildlife here at Winchester, both on College grounds and within the historical collections. Her links to ecological and conservation societies in the wider area will also greatly enhance the experiences of pupils on Natural History Society trips."
Head of Geography, Dr Alex Clayton said "As teachers, we are collectively faced with providing an educational response to the climate and ecological emergency. We are privileged at Winchester to have a member of staff in the form of The Duncan Louis Stewart Fellow who can solely focus on cultivating a love and respect for the natural environment in our pupils and fuelling their curiosity. Eve brings superb subject knowledge and great vitality to the role."
Eve added "I am hugely excited to be a part of the brilliant team at Winchester College. Winchester is home to enormous diversity, and I am keen to share this with pupils from the College and our partner schools. I feel especially privileged to engender a wider understanding and appreciation of the natural world in memory of Duncan. I get so much pleasure from nature, and this feels like one way to pay it back."
Head back to stories